Chicken Mulligatawny Soup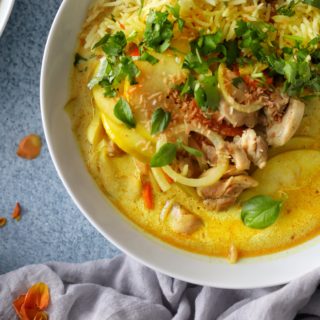 Author:
simply beautiful eating - inspired by GoodFood
CHICKEN
4 - 6 boneless chicken thighs, cut into bite size chunks
½ teaspoon ground cumin
½ teaspoon turmeric
2 teaspoons garam masala
1 pinch cayenne pepper or chili powder
½ teaspoon kosher salt
1 tablespoon flour
SOUP
3 tablespoons olive oil, divided
½ small sweet onion, sliced
2 celery stalks, chopped
1 large carrot, peeled and sliced into thin rounds
2 cloves garlic, minced
1 tablespoon garam masala
2 teaspoons curry powder
½ teaspoon turmeric
½ teaspoon ground cumin
½ teaspoon cayenne pepper or chili powder (if you want to kick up the heat)
1 tablespoon flour
3 cups chicken broth
½ cup uncooked basmati rice
1 tart apple, thinly sliced leaving the peel on (I used Granny Smith)
1 14 ounce can coconut milk, well shaken
¼ cup golden raisins
Juice from one lime
salt and pepper to taste
Freshly chopped cilantro for garnish if desired
Heat 1 tablespoon oil in a large stock pot or dutch oven over medium until shimmering.
Toss chicken pieces with the seasonings and flour and add to pot. Brown chicken on all sides — cooking through completely. Remove cooked chicken to a plate or bowl and set aside.
Add another 1 tablespoon oil to pot (still on medium heat). When shimmering, add onions, celery and carrots. Saute until soft. Add garlic and sauté, stirring until fragrant (about a minute).
Push the vegetables to one side, and add the remaining tablespoon of oil in a bare spot, heating briefly. Sprinkle the garam masala, curry powder, flour and a good pinch of salt over the oil and stir to form a fragrant paste, then mix in with the vegetables, cooking briefly to make the spices fragrant. Add a small amount of the chicken stock and stir until smooth.
Add the remaining chicken stock into the pot and turn heat to medium-high. Bring the soup to a gentle boil, add the rice and raisins and reduce heat back to medium-low. Partially cover the pot and to cook for 15 minutes. Add in the apple slices into the soup and stir in the cooked chicken. Cook for 5 - 10 minutes more. Taste and add salt as necessary.
Turn heat to low and add coconut milk, stirring to mix thoroughly. Let heat through, and add in salt and pepper to taste. Add in the lime juice and serve with chopped cilantro if desired. I made an additional bit of basmati rice to serve in the bowl as well.
Recipe by
SIMPLY BEAUTIFUL EATING
at https://simplybeautifuleating.com/2019/01/07/chicken-mulligatawny-soup/