Brown Rice Chicken & Shrimp Jambalaya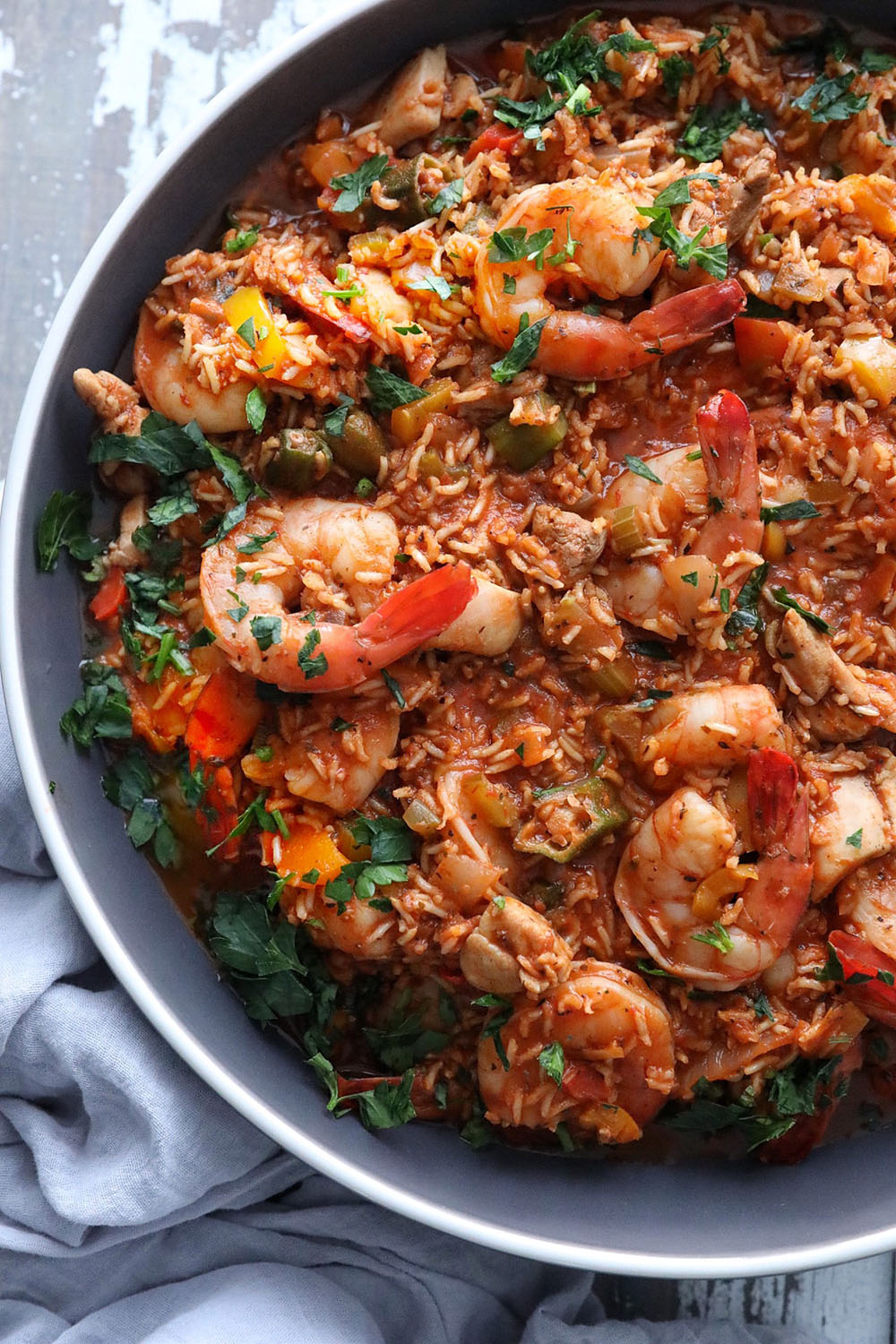 Author:
simply beautiful eating
6 - 8 chicken thighs, boneless & skinless, cut into 1 inch bite size pieces
extra virgin olive oil
½ large sweet onion, diced
2 bell peppers, diced (I used red and orange)
3 celery stalks, diced
3 garlic cloves, minced
2 tablespoons cajun seasoning, divided
1 teaspoon salt
1 teaspoon pepper
½ teaspoon cayenne pepper, if you want it spicy
1 tablespoon italian seasoning
1 teaspoon chili pepper flakes
1 14 oz can crushed tomatoes
2 teaspoons Worcestershire sauce
1½ cups basmati brown rice
3 cups organic low salt chicken broth
1 cup okra (I used frozen and thawed it first)
1 package (16-20 count) black tiger shrimp, peeled and deveined
Fresh parsley, chopped for garnish
Heat 2 tablespoons olive oil in a large dutch oven or stock pot. Add chicken, 1 tablespoon cajun seasoning, salt and pepper. Sauté for 8 minutes, until chicken is cooked evenly. Remove from pot and set aside.
To the same pot add another tablespoon of olive oil and heat to medium low. Add in your trinity (onions, peppers, celery). Sauté for 8 minutes, or until trinity is nice and soft. Add the garlic, remaining tablespoon of cajun seasoning, cayenne, Italian seasoning, chili pepper flakes, and additional salt and pepper to taste. Cook for another minute.
Add in the crushed tomatoes, Worcestershire sauce, brown rice, and chicken broth. Stir and mix well. Bring the mixture to a slow boil, then reduce to simmer on low heat. Cover and cook for 30 minutes, stirring every 5 to 7 minutes so that the mixture doesn't scorch and burn.
The rice should be fully cooked and the liquid absorbed. If the rice is still chewy, add a bit more chicken broth, cover and cook longer.
Add in the shrimp, okra and continue cooking on medium heat until the shrimp is fully cooked through (about 5-7 minutes).
Add the chicken back into the pot and heat through. Garnish with chopped parsley if desired.
Recipe by
SIMPLY BEAUTIFUL EATING
at https://simplybeautifuleating.com/2019/01/11/brown-rice-chicken-shrimp-jambalaya/