Hot Cocoa & Dark Chocolate Dipped Sea Salt Madeleines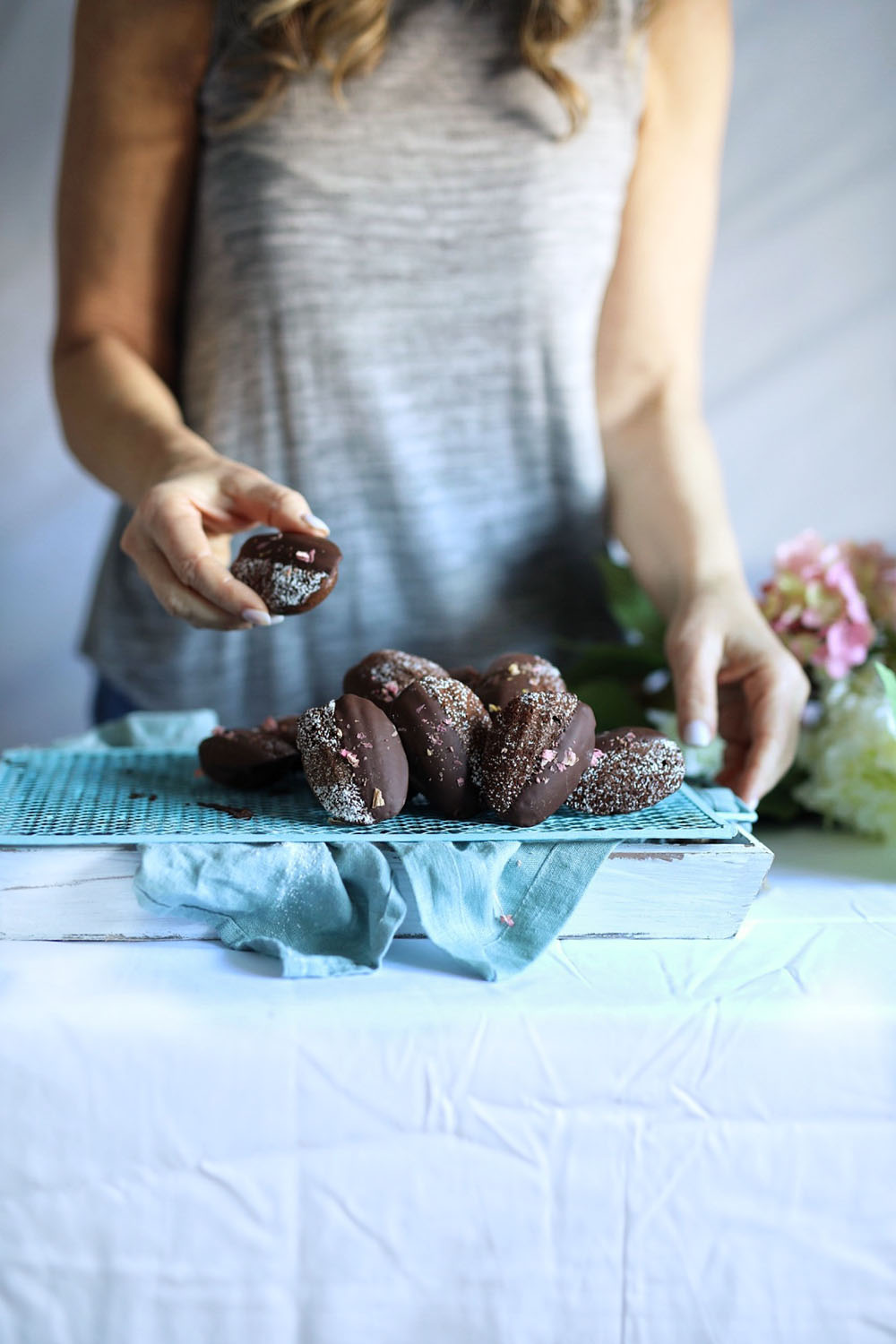 Author:
simply beautiful eating
⅔ cup all-purpose flour - sifted
3 tablespoons sweetened hot cocoa mix - I used Ghirardelli
½ teaspoon baking powder
Pinch of sea salt
2 large eggs, room temperature
½ cup granulated sugar
1 teaspoon pure vanilla extract
6 tablespoons unsalted butter, melted and cooled
1 tablespoon softened or melted butter for greasing your pan
Powdered sugar, for dusting (optional)
1 bar sea salt chocolate, melted (for dipping) I used Lindt
dried rose petals for garnish (totally optional)
Melt butter and let cool while you make the rest of the batter.
Sift all the dry ingredients and place in a small bowl, Whisk together, then set aside.
In the bowl of a stand mixer fitted with the whisk attachment (or in a large bowl using a hand mixer fitted with whisk beaters), beat the eggs on low speed for 1 minute, then increase the speed to medium-high and gradually add in the sugar. Continue beating for 2 to 3 minutes until soft peaks form. (You will want a pale yellow fluffy consistency here)
Add the vanilla and beat on low speed until combined. Using a rubber spatula, GENTLY fold in the flour mixture until just combined, then fold in the cooled melted butter until just combined. Cover with plastic wrap, placing the plastic wrap directly on the surface of the batter. Place the bowl in the refrigerator to rest for at least 2 - 3 hours, or overnight.
Preheat the oven to 375°F. Lightly butter a non-stick madeleine pan, with softened or melted butter.
Remove the batter from the refrigerator. Spoon a heaping tablespoon (or use a tablespoon cookie scoop) of batter into each well of the madeleine pan.
Bake for 9 to 11 minutes, or until the madeleines are lightly puffed in the middle (you want to see a nice hump) and the tops spring back after a light tap.
Remove the madeleines from the oven and let cool slightly (about 2 - 3 minutes).
Remove them from the pan and place them on a wire rack to cool completely before garnishing.
When completely cool, melt your chocolate in a double boiler and cool slightly.
Dip one edge of each cookie into the chocolate and let set. Serve immediately or store for up to 3 days in an airtight container.
Recipe by
SIMPLY BEAUTIFUL EATING
at https://simplybeautifuleating.com/2019/01/29/hot-cocoa-dark-chocolate-dipped-sea-salt-madeleines/