Stir Fried Eggplant with Sesame Seaweed Salad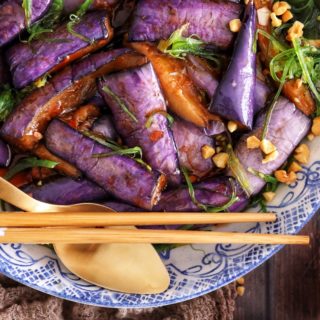 Author:
simply beautiful eating
2 long Asian eggplants
pinch of sea salt
1 teaspoon fresh ginger, minced
½ tablespoon Chinese cooking wine
2 tablespoons peanut oil
2 garlic cloves, minced
2 scallions, finely sliced
½ tablespoon black bean paste
1 tablespoon light soy sauce
1 tablespoon oyster sauce
⅛ teaspoon sugar
½ teaspoon sesame oil
Sesame Seaweed Salad - store bought or homemade
Remove the ends of the eggplants and then cut into small cubes. Transfer them into a large pot filled with water, add pinch of salt and soak for 10 minutes. Drain completely.
Heat 2 tablespoons of oil in wok and fry the eggplants for 6-9 minutes until they become soft. Transfer eggplants to a plate out and leave the oil in the wok. Add green onion to the wok with the garlic, ginger and black bean paste and stir fry about 2 minutes. Return the eggplants to the wok with the soy sauce, oyster sauce, sugar and sesame oil. Stir fry until heated through, serve with additional scallions, chopped peanuts and sesame seaweed salad.
Recipe by
SIMPLY BEAUTIFUL EATING
at https://simplybeautifuleating.com/2019/01/31/stir-fried-eggplant-with-sesame-seaweed-salad/